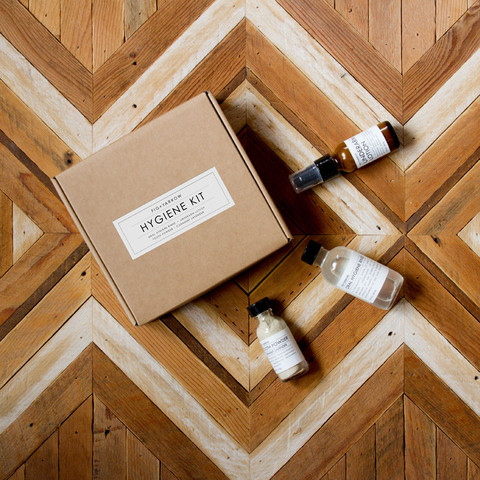 « back to bath & body
Hygiene Kit
Hygiene Kit offers a trio of Fig and Yarrow's most highly-praised hygiene favorites: 1 oz Underarm Lotion, 2 oz Oral Hygiene Rinse, and 1.25 oz Tooth Powder. All exceptionally effective, non-toxic alternatives to daily use products. Excellent for trial use, gifting and convenient air-friendly travel.

Underarm Lotion is a supremely effective blend of minerals and botanicals to naturally discourage both odor and excessive moisture while nourishing and soothing underarm skin. Pump a modest amount onto fingers, disperse and massage into underarm area.

Oral Hygiene Rinse is a therapeutic blend of pure and natural ingredients to be employed for the dispelling of offensive breath odor and general enhancement of the oral theater. Prior to brush/floss routine and between meals; shake well, swish appx 1 tsp. in mouth 60 seconds, spit, rinse. Do not ingest.

Cornmint Lavender Tooth Powder is a delightfully vigorous blend of naturally effective ingredients for comprehensive maintenance of oral health and appearance. Based on a proven combination of traditional and contemporary wisdom, this unique formulation is a deliciously therapeutic aspect of daily oral care. Tap a small amount of powder to wetted toothbrush and attend to teeth, gums and tongue with gentle brushstrokes.
+ Comes in a gift-ready box
+ Travel-friendly sizes
+ Sizes: 1 oz Underarm Lotion, 2 oz Oral Hygiene Rinse, and 1.25 oz Tooth Powder
+ Made in the USA
About Fig + Yarrow

Fig + Yarrow is an artisanal line of small-batch, handcrafted organic health and vanity products born of Brandy Monique's love affair with botanicals and various earth elements. Featuring unique formulations designed for sensual enjoyment, physical radiance, and overall vitality, all the materials used - from the lovely and vibrant roots, leaves, flowers, minerals and oils to the glass containers the products live in - are selected for beauty, health and purity.

*Denver, CO
This item is ready to be shipped within 2-3 days upon your order.
Shipping:
+ Domestic: $10 USPS First Class
+ International: please contact jandm@themiaproject.com with your international shipping address for international shipping rates.
Return Policy: All Fig + Yarrow items are final sale. If you have an issue with your order, please email jandm@themiaproject.com and we will do our best to resolve it.