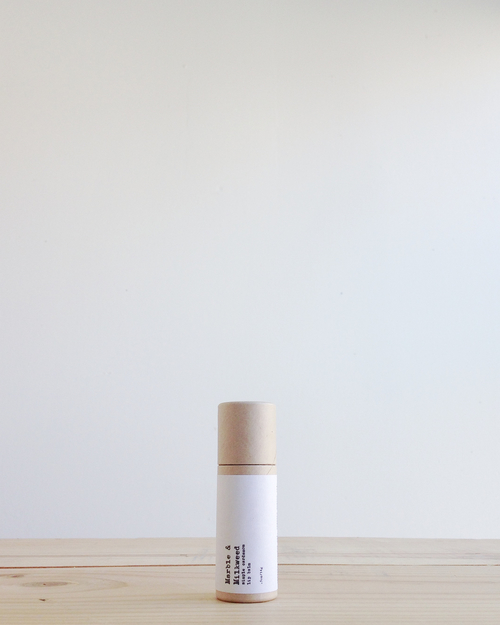 « back to face & masks
Cardamom Lip Balm
A creamy organic coconut oil base scented with spicy, warming organic cardamom. Coconut oil is full of fatty acids that feed and protect your sweet little lips, while sesame oil contains lots of vitamin E, and has been a favorite ingredient in Ayurvedic skin care for thousands of years.
+ Size: 0.5 oz
+ Ingredients: organic coconut oil, organic sesame oil, organic essential oil of cardamom, non-gmo vitamin e, local beeswax
+ Handmade in the USA
About Marble & Milkweed

Marble & Milkweed is inspired by the poetry inherent in any well-crafted thing, brought to you by Briar Winters and the cool, smooth skin of her clawfoot bathtub in her kitchen on Rivington Street, in New York City's Lower East Side. The healing powers of water serve both as refuge and as muse.

The scientific name of milkweed's genus is Asclepius, named after the Greek god of medicine and healing. In Hindu mythology it is believed that the universe was created by a god drunk on the milky white juices of the plant. Today, milkweed is the primary source of food for the monarch butterfly. It's Briar's hope that the precious nectars you'll find in her products will likewise nourish you into winged resplendence!

Marble & Milkweed products are designed to simplify the way you care for yourself. They are formulated almost exclusively using organic and fair-trade ingredients, and are made carefully by hand. They are gentle and contain no harsh chemicals or artificial scents. Glass bottles, metal tins, and compostable paper bags, all of which have lives beyond their first use, are used. Marble & Milkweed is proud to support the work of Butterfly Project NYC with a portion of its profits.

*New York City, NY
All Marble & Milkweed products are handmade to order and ship within 5-7 business days.
Shipping:
+ Domestic: $5 USPS First Class.
+ International: please contact jandm@themiaproject.com with your international shipping address for international shipping rates.
Return Policy: Due to the nature of Marble & Milkweed products, they cannot accept returns or exchanges. However, we want you be 100% content with your purchase. If you have a problem with your order, please contact us at jandm@themiaproject.com and we will try to remedy the situation as best we can.