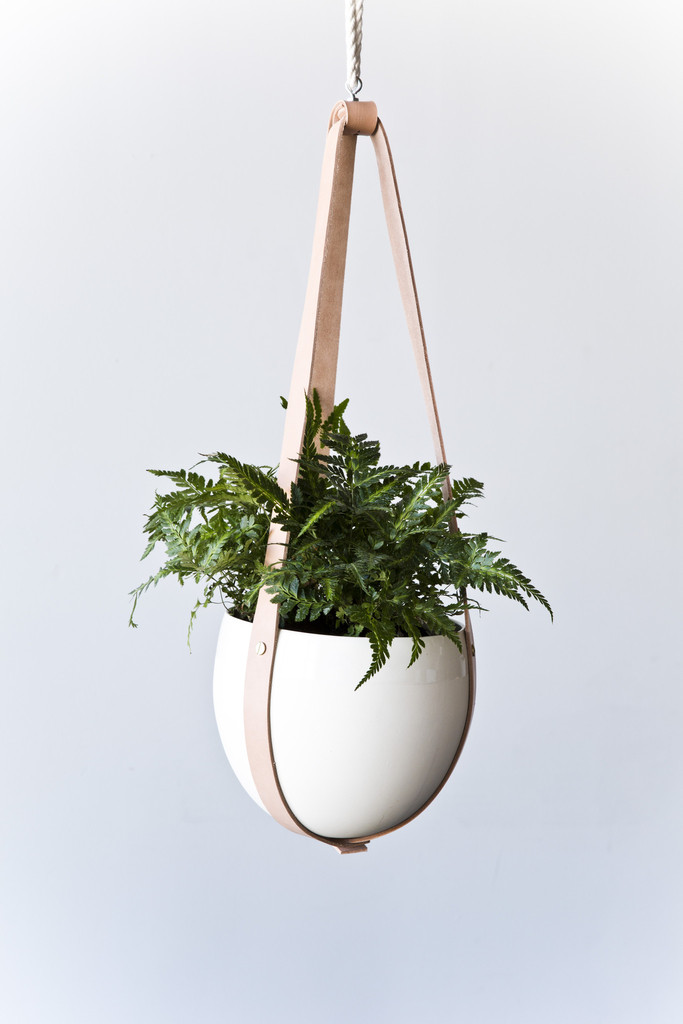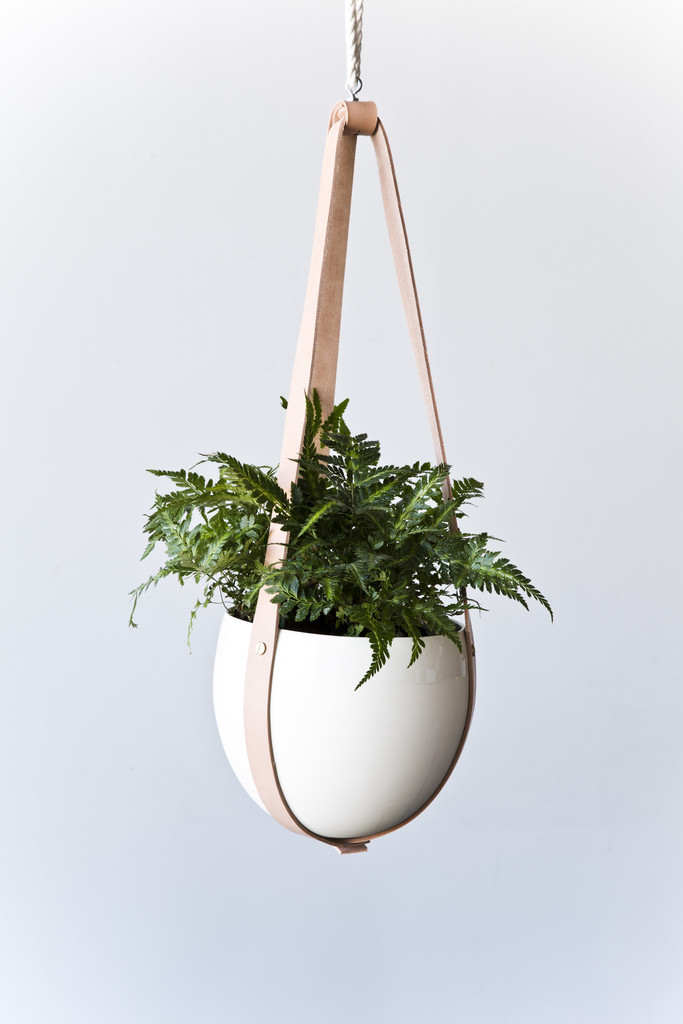 « back to objects
Ceiling Planter with Leather
This elegant ceramic planter descends from 3 thick vegetable tan leather straps. Its neutral pallet and clean shape make this design versatile, and the generous size fits many types of plants.
Care: No drainage hole. Adding a handful of small rocks, sand or charcoal to the bottom of your planter is an easy way to give that excess water somewhere to go and prevent your plants from drowning.
+ Dimensions: Diameter 8", Height: 7", Total height with strap: 23"
+ Made in the USA
About Light + Ladder

Light + Ladder is the culmination of founder Farrah Sit's dream to create a business based on quality, function, beauty and community. The company and its designs represent a return to meaningful consumption by providing artistic, one-of-a-kind, American-made accessories for the home. Each product is inspired by the vivid simplicity of the natural world and bringing nature indoors with a sleek yet practical approach to luxury.

All products are locally sourced and produced and designed by a network of independent artists in Brooklyn, New York. They strive for perfection of form and function, while keeping manufacturing fair, passions high, and honesty in their work a constant.

*Brooklyn, NY
This item is ready to be shipped within 1-3 days upon your order.
Shipping:
+ Domestic: $14 FedEx Ground
+ International: please contact jandm@themiaproject.com with your international shipping address for international shipping rates.
Return Policy: We accept returns within 7 days from receipt of goods. Shipping charges are non-refundable and buyer is responsible for return of the merchandise in one piece. Items that arrive damaged or lost in transit back to us will not be refundable, so take care in repackaging and use a trusted shipping carrier. Item damaged in shipment: Every order is packed carefully to ensure that all items arrive at your door safely. Should an item arrive damaged, please email jandm@themiaproject.com within 48 hours of receiving the package- and we may ask you to send in the broken piece. We'll happily send you a new item, or issue a store credit. We are not responsible for breakage during the installation of our product.