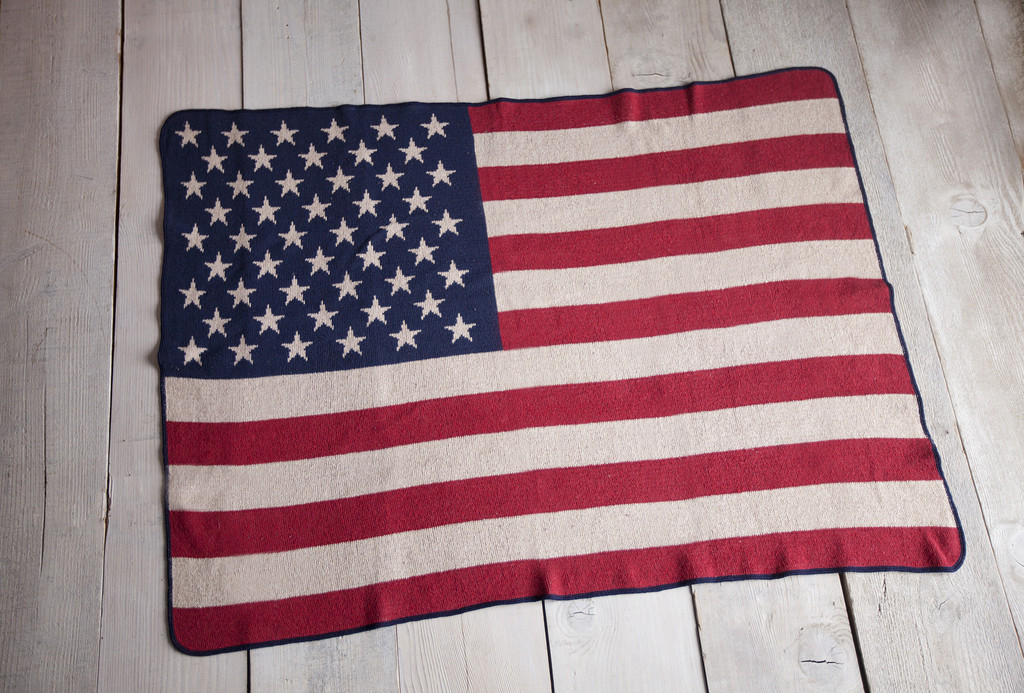 « back to pillows & throws
USA Flag Eco-Friendly Throw
Wrap yourself in pride with this eco-friendly vintage flag throw. It's perfectly sized to cuddle up with at home or take on the road. It's soft to the touch and yet will still hold up to the rigors of many picnics and baseball games. A rich and true vintage red, white and blue.

Recycled cotton is recovered cotton that would normally be wasted during the spinning, weaving and cutting process. This unique process saves land, energy and water.

Lifstyle photos by photographer Brittany Wood for The Chalkboard Mag.
+ Dimensions: Width 50", Height 60"
+ Materials: Medium weight. 74% recycled cotton, 24% acrylic
+ Care: Machine wash and dryer safe
+ Made in the USA
About Bluebird Blanket

Bluebird Blanket was founded in 2012 in Sioux Falls, South Dakota, with Brenda Anderson's strong desire to sell high-quality items that were made in America. A solid start to a business, if you ask us! From the recycled cotton fibers they use in their eco blankets, to the fabrics, trims and packaging, they are very proud to support the American textile industry and keep Americans working.

Brenda is a mom to five children and owner of a distribution company in addition to the creator of Bluebird Blankets. Bluebird has worked long and hard to produce their entire collection in the U.S., and their authentic designs and rich sustainable fibers reflect their dedication to making ultra-comfortable and stylish blankets for the entire family.

*Sioux Falls, SD
This item ships within 2-3 business days.
Shipping:
+ Domestic: $10 USPS Ground
+ International: please contact jandm@themiaproject.com with your international shipping address for international shipping rates.
Return Policy: Any unused, unwashed items may be returned within 30 days. Please contact jandm@themiaproject.com if you need to return your blanket. Please be advised that all shipping costs incurred in returning you item will not be reimbursed.