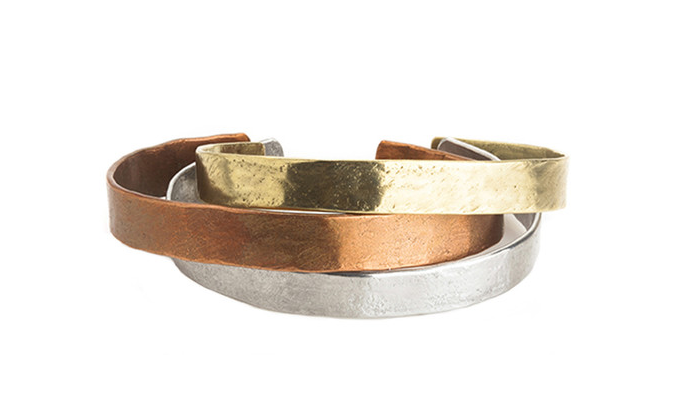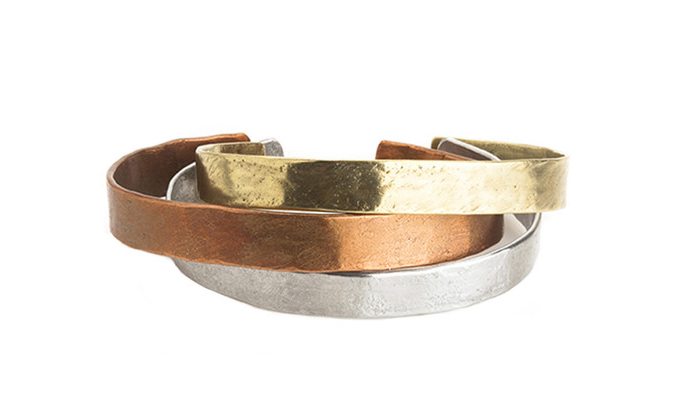 « back to mens jewelry
Metallurgy Stacking Bracelets
Simple hand pounded brass, copper, and aluminum cuff bracelets, set of 3.
+ Size: 6.5" x 1/4"
+ Metal: aluminum, brass, copper
+ Handmade in the USA
About Bagtazo

Bagtazo is inspired by traditional body adornment and primitive production techniques. Using simple materials worked by hand, designer Courtney Cady pulls from folk and tribal cultures to create elegant accessories for men and women. Courtney was raised in the small coastal town of Seal Beach, CA, by a surfer from The Philippines and an Irish hippie from Georgia. Courtney began making things and directing her attention to books and National Geographic magazines in elementary school. Through years of delving into counter cultures, art, film and music, Courtney developed wanderlust and began traveling the world in her teens.

Taking residence in Los Angeles, CA, in 2003, Courtney first worked in fine art and fashion but eventually went on to study at the University of Southern California, receiving two degrees in Visual Anthropology and Philosophy. She focused on ethnographic film and photography, tribal dynamics, rituals, cosmology, urban micro-cultures, and anthropological theory, Ancient Greek and Medieval philosophy, as well as Eastern philosophy, metaphysics and existentialism.

Shortly after her studies, Courtney resumed her work in art and fashion, eventually establishing Bagtazo. Her collections are distinctly minimal and, all of her work is done by hand, in small quantities.

*Highland Park (Los Angeles), CA
This item is ready to be shipped within 2-3 business days upon your order.
Shipping:
+ Domestic: $6 USPS First Class
+ International: please contact jandm@themiaproject.com with your international shipping address for international shipping rates.
Return Policy: Any damaged or flawed Bagtazo product is returnable within 30 days of purchase. Please contact jandm@themiaproject.com if you need to proceed with a return.