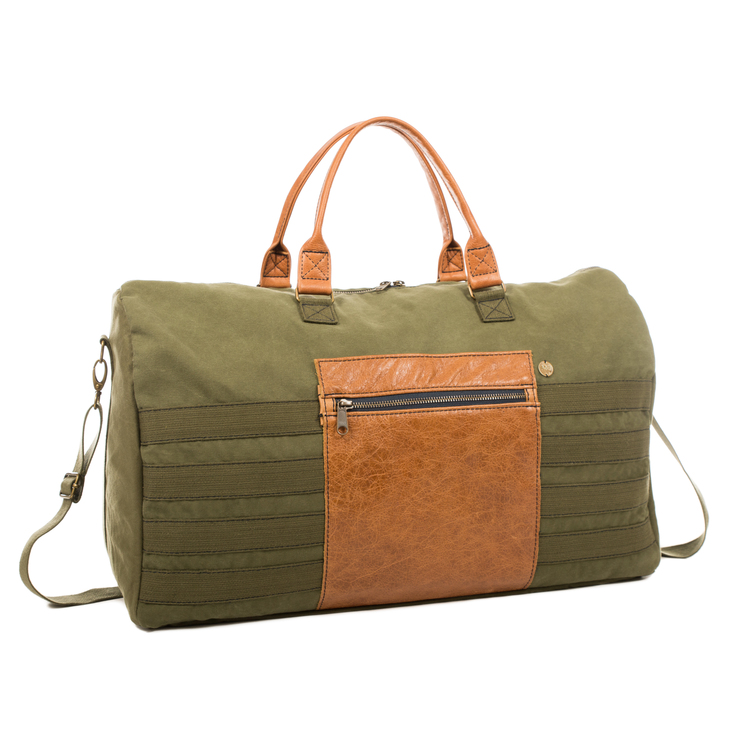 « back to totes & wallets
The Shelter Duffle
Crafted from Vietnam War Tent Canvas, Vermont Honey Leather, navy cotton lining, and antique brass hardware, this duffle crosses the line of both stylish and utilitarian.
+ Dimensions: Length 22", Width 10", Height 12"
+ Materials: Vietnam War Tent Canvas, Vermont Honey Leather, navy cotton lining, antique brass hardware
+ Made in the USA
About Age Carriers

Age Carriers bags are defined by quality, blending fine materials with modern design to reimagine the way we carry. The founders are inspired by cities, architecture, history, and places of purpose. Oh, and they travel with these bags as a means to learn and prove their durability before a finished product. Made in California for everyone.

*San Diego, CA
This item is ready to be shipped within 5-10 business days upon your order.
Shipping:
+ Domestic: $20
+ International: please contact jandm@themiaproject.com with your international shipping address for international shipping rates.
Return Policy: While we are confident that you will be satisfied with your purchase, we also want to make the return process as effortless as possible in the event you wish to return or replace your order. You may exchange or refund your purchase within 21 days. The product must be returned in the same condition with which it was shipped. Postage and packaging fees are non-refudable, and will be retained by Age Carriers. Please email us at jandm@themiaproject.com to proceed with a return.