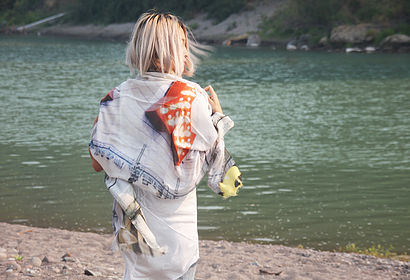 « back to womens apparel
This Way Scarf
This Way photograph, printed on voile, was taken in Portland, Oregon. Voile gets silkier and softer over time, like your favorite leather jacket. Wear this piece as a scarf in the winter and a sarong in the summer. Crumple up the voile scarf into a ball to lend wrinkled texture - these wrinkles actually add to the design. Perfect for traveling!

Ink & Tailor designers Maya and K'era snap all photographs printed on their scarves themselves. Each is part of a limited edition collection, selected for interest, beauty, color, and emotional ties!
+ Sizing: 26" x 72"
+ Material: Voile, 70% Cotton, 30% Silk
+ Made in USA
About Ink & Tailor

Ink & Tailor is former college roommates Maya von Geldern and K'era Morgan, creative souls with a love of photography and an insatiable desire for artistic exploration. After 20 years, they came together to create Ink & Tailor, a culmination of their friendship and shared passions.

The duo cleverly blend art and apparel, transforming a static image they've personally taken into fluid works of art meant to be draped, wrapped and worn. They give a new perspective to the mundane, elevate the ignored, and celebrate all that's beautiful, whether it be oddities or the simple joys in life.

Each piece is a limited edition, and each collection is inspired by the people, places, and things close to their homes, as well as far away. In a world of different perspectives, their goal is to share their interpretation of the world captured through a camera lens onto textiles.

*Los Angeles, CA & Portland, OR
This item is ready to be shipped within 3-7 business days upon your order.
Shipping:
+ Domestic: $8 USPS Priority
+ International: please contact jandm@themiaproject.com with your international shipping address for international shipping rates.
Return Policy: Returns or exchanges accepted on this item if made within 7 days of receipt of purchase. Must be unworn, unused, with tags attached. If you have an issue with your purchase, we'll do our best to resolve it. Contact jandm@themiaproject.com.