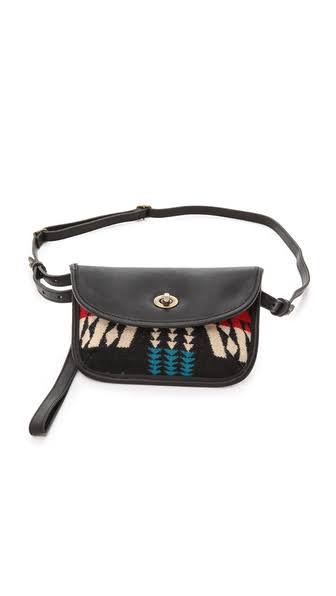 « back to bags
The Portland Collection Convertible Belt Bag
by Pendleton Woolen Mills
This Pendleton convertible belt bag (AKA fanny pack), part of The Portland Collection started in 2011, is composed of smooth black leather mixed with patterned, felted wool. Brass hardware turn-lock closure keeps the flap secure. Lined. Adjustable belt and optional wristlet strap.
+ Dimensions: Height 4.75", Length: 7.5", Belt length 37"-43".
+ Material: Cowhide leather, wool, brass
+ Made in the USA
About Pendleton Woolen Mills

A HISTORY LESSON: In 1863, traveling down the Atlantic seaboard, crossing the Isthmus of Panama on a burro, Thomas Kay, a young English weaver, was experiencing a dream come true. An old hand at sea voyages and a textile mills worker, he was now headed to an area with ideal conditions for raising sheep and producing wool - America's newest state, Oregon.

Kay helped organize Oregon's second woolen mill in Brownsville, where he oversaw the weaving operation. In 1889, Thomas Kay opened his own mill in Salem, Oregon. His eldest daughter, Fannie, learned the mill business and ably assisted her father in mill operation and management. When she married retail merchant C.P. Bishop, a complementary combination of merchandising and manufacturing expertise emerged - a solid foundation for what was to become Pendleton Woolen Mills. This dual textile-retail heritage was passed on to the three Bishop sons, Clarence, Roy and Chauncey. In 1909, with family and town backing, the Bishop sons started up an idle mill in Pendleton, Oregon.

In September of that year, the first products emerged from the new finishing department and the tradition of Pendleton Woolen Mills began. The production of Indian blankets was an important part of the company's output, so they studied the color and design preferences of local and Southwest Native Americans, resulting in vivid colored and intricately patterned textiles. Trade expanded from the Nez Perce nation near Pendleton to the Navajo, Hopi and Zuni nations. These Pendleton blankets were used as basic wearing apparel and as a standard of value for trading and credit among Native Americans. The blankets also became prized for ceremonial use. Under the direction of the Bishop family, Pendleton expanded into other areas of woolen manufacturing. In 1912, the addition of a weaving mill in Washougal, Washington, broadened its capability for fabric variety, including suitings.

The production of woolen shirting material was a natural extension of the mill's capabilities. In 1924, the legendary Pendleton virgin wool men's shirt was born. By 1929, Pendleton was making a full line of men's virgin wool sportswear. Then in 1949 womenswear was added. No one could have predicted the enormous success of a single garment introduced with the Pendleton womenswear line that year - the 49er jacket (we're guessing not an homage to the San Francisco 49ers). In 1972, Pendleton became a year-around sportswear resource, introducing distinctively styled, non-wool menswear and womenswear for spring and summer wear.

Pendleton has thrived under the direction of the Bishop family. Today the company owns and operates 7 facilities, manages 75 Pendleton retail stores and publishes apparel and home direct mail catalogs. For many years, Clarence's sons, C.M. Bishop, Jr. (Mort) and Broughton (Brot) Bishop, acted as co-executive officers. This family thread has continued to produce Pendleton leadership with a legacy of hands-on management for six generations.

*Portland, OR
This item will ship in 2-3 days.
Shipping:
+ Domestic: $15 USPS Ground
+ International: please contact jandm@themiaproject.com with your international shipping address for international shipping rates.
Return Policy: If you are not satisfied with your purchase, you may return your item within 7 days of order receipt, provided that it is in the same condition as it was upon receipt. No product returns after this 7 day period. All returns require an authorization number. Please email jandm@themiaproject.com to proceed with a return. Please be aware that shipping and handling costs incurred within the return procedure will not be reimbursed.